kayaking and canoeing on the French Dordogne river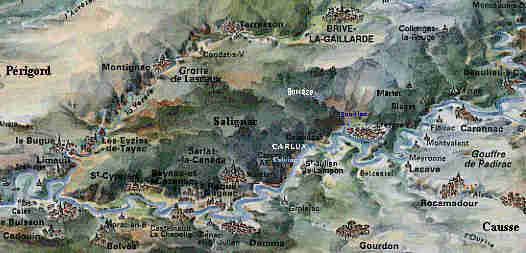 This river can even be paddled with sea kayaks.

Summer 2006 has arrived in the old Dordogne valley.
Actual weather forecast at Méteo France
Actual water levels in the Dordogne region
July 2001, the river has flooded most campsites along the river at the start of July. This flooding came as a complete surprise, on my Dordogne kayak trip 2001 I was looking at a mighty river drowning half the Limeuil campsite. On July 23 2001 the level is dropping but still higher than normal for this time of the year. So the 2001 Dordogne trip is no success. People who want to paddle the Dordogne river should be aware that the river can be dangerous in times of heavy rainfall. So have a spare river in mind when planning a trip on this river. Think about the Mosel, Weser, Fulda or Lahn river in Germany.
Short river description:
The Dordogne river is a French river going from the Massif Central along Bergerac and Bordeaux to Royan at the Atlantic Ocean. We paddled the 130 km middle part from Beaulieu sûr Dordogne to Limeuil. The entire river can be divided into four parts: the upper river with dams, the middle part where the river descends at at rate of 0.5 m/km through a mountain range, the 1.0 m/km descending part from Limeuil to Bergerac where you find some dams and the part from Bergerac to the ocean where the river flows freely through an agricultural landscape.
It's rather easy to paddle the middle part of this river, we used a large open Gatz Cherokee 5.50 m canoe, a smaller Gatz Mohawk canoe and three flat water children's kayaks.
These are the boats we used in this trip.

One Gatz Cherokee 5.50 x 0.95 m, 44 kg, 500 kg max load.



Three flat water children's kayaks 3.50 x 0.55 m.

One Gatz Mohawk 5.25 x 0.85 m, 28 kg, 400 kg max load.
The river is wide and shallow. The riverbed contains rounded rocks and in some places you even find sandy beaches. We did this in July 1998 when the water level was rather low, the flow was lower than 100 m3/sec. The river can rise very high and uprooted trees and debris high in the trees are silent witnesses of this raging river in winter and spring, the flow can exceed 2000 m3/sec, making it a big, fast flowing and dangerous river, but even in summer during long periods of rain the river can become dangerous.
The river has many dead channels where fish find food and shelter.

Getting back to your car can be a problem, not all railroads on the map are still in use. Best is to get to Beynac and take a trip with SAFARAID who can bring you back to Argentat or Beaulieu. The river has lots of campsites along this stretch.
Safaraid
46140 Albas
tel: +33-565307447
fax: +33-565307448
http://www.canoe-dordogne.com
You can also rent a boat at
http://www.adndordogne.org/canoe.html
http://euroriviere.com/dordogne/indexa.html
http://www.asso-horizons.com/canoeric/index.html
http://www.best-of-perigord.tm.fr/loisirs/canoe/enveaux/anglais/envo_uk.html

We paddled with 4 adults and 5 children. Three children paddled in their own kayaks and the rest of us in two large open Gatz canoes. The trip took 8 paddling days and we had 6 resting days to visit the sights along this stretch. The water was crystal clear and we were swimming in it every day of the trip. My 10 year old daughter Marieke counted the rapids for us and she paddled the entire 130 km in her own boat without assistance.

TIP:
For a one day trip start in Cénac and rent your boats at Le port de Domme
Advice:
Always wear a P(ersonal) F(loatation) D(evice) because it's safer and the French police will take you off the river when you don't have it.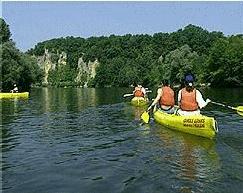 Rented canoes on the Dordogne river near Vitrac

We decided not to do the Argentat - Beaulieu part of the river. The river passes the Malpas (bad passage) there and we didn't want to take any risk with the children. Later I heard this part is not very difficult either (thanks Adam Box), other people told me they had been terrified by the Argentat - Beaulieu part of the river. Above Argentat there are dams for the production of electricity.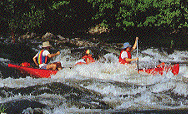 Here's a picture of the wildwater 3 passage near Beaulieu from http://fil.eau.free.fr/france/dord.htm
When you enter Beaulieu, take the canal on the left to avoid a very nasty dam where your boat may be seriously damaged.
Day 1: Beaulieu - Carennac 21 km, WW1 (2), 13 rapids
The first rapid is rather heavy and we all get wet, some rapids further downstream we see a Dutch couple who hit a rock and the man's arm was badly injured because he hit the rock while holding on to his capsized canoe. The river was not too technical but inexperienced paddlers should take care.
We fetched some food in the village of Puybrun. The campsite at Carennac was next to a WW2 weir.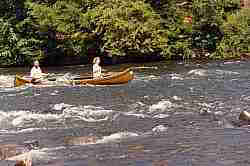 Not deep, but fast flowing water, photo from Engbrinks homepage
Day 2: Carennac - Gluges 12 km, WW1 , 16 rapids
The weir next to the campsite at Carennac looks a bit too much for our fully loaded canoes and the children in their flat water kayaks. In July 2002 there will be a canoe and fish passage. After taking another close look at the weir near the campsite we decide to take the canal to Carennac and transport the canoes over a small path back into the Dordogne river. This canal is very nice and Carennac is worth a visit with old medieval houses. The children start enjoying the rapids. Gluges is a small almost deserted village under huge overhanging rocks.
Day 3: Gluges - Pinsac 17 km, WW1 , 18 rapids
Rapid 2 is rather narrow with eddies and some technical problems. Two children capsize, one almost capsizes, the large heavy canoes have no problems. There was no real danger, after a good swim both children still smile. At rapid 17 all the river water seems to be drawn to two tree stumps two meters apart in the worst part of the rapid. Our canoe hits one tree stump but we glide past it. Marieke gets stuck between the two tree stumps. Her boat capsizes and the water tries to break her boat between the tree stumps. She removes her spray skirt, gets out of the boat, picks up her boat and safely lands on a beach. Her right leg is bruised but she's alive and smiling. All the other boats manage to get past these trees. Some minutes later another polyester kayak breaks in two at the same point. The campsite at Pinsac is not very good but from there we visit the Grottes de Lacave. It's nice to visit the cool caves in hot weather.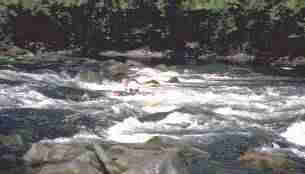 some rapids are "technical" for our large and heavy open boats.
Day 4: Pinsac - Saint Julien de Lampon 22 km, WW1, 40 rapids
Many harmless rapids make a perfect kayak day for the children, some rapids are a bit technical but the children are much more confident now. The campsite on the right bank appears to be the best. Saint Julien de Lampon is not spectacular but we find everything we need.
Day 5: Saint Julien de Lampon - Cénac 20 km, WW1, 20 rapids
The river starts entering a more scenic part of the stretch, we see castles and the rocks get closer and higher. In Cénac we find the first large canoe renting station. We visit the old city of Domme high on a rock above Cénac. This would be a good place to start a day trip along the river, it can be quite crowded with tourists over here.
Day 6: Cénac - Beynac 9 km, WW1, 9 rapids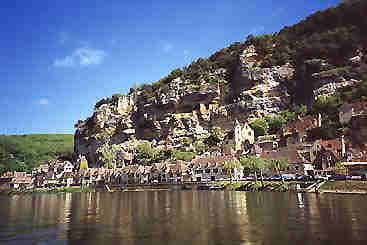 First we pass the very beautiful village of La Roque-Gageac.
This day we visit the castle Castlenaud close to Beynac. It's a museum of medieval warfare, the boys love it. Now we see hundreds of rented boats paddling down river in every possible way. We also see the castle Les Milandes where the American actress Josephine Baker tried to raise a bunch of children from all over the world. We take the middle of the three campsites before Beynac because there we find the best place to get our boats ashore. It's more like a farm and the toilets are "basic" but it's quiet and there's lots of room for the tents.
Day 7: Beynac - Siorac 17 km, WW1, 18 rapids
Most people end their journey in Beynac, but we decide to go on. The river is less spectacular, the land is flat but there are no more tourist crowds on the river. The campsite of Siorac is close to a very large supermarket.
Day 8: Siorac - Limeuil 13 km, WW1 13 rapids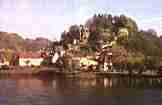 An unexpected nice trip, the rapids are getting bigger the landscape is spectacular with many birds of prey. Our trip ends in Limeuil where the Vézère river adds 50% more water to the Dordogne. Across the river Limeuil has a very good campsite for the visit of the prehistoric caves of Lascaux and other prehistoric sites along the Vézère river.
After Limeuil the river starts a quick descent to sea level, but this stretch has three dams where you have to carry your boats for hundreds of meters. The first dam is at Mauzac, the second at Tuillères and a third just after Bergerac. If you want to paddle the remaining 245km of the river to the port of Royan at the Atlantic Ocean you could skip the part from Mauzac to Bergerac. The last part of this stretch the river is called Gironde and this a tidal river.
From Bergerac to the Ocean
km
231 kayak center Sainte-Foye
232 Sainte-Foye
238 Eynesse
250 Flaujaques
266 Saint-Jean-de-Blaignac
273 Branne, tidal river starts
290
Libourne
, to the right the Isle, 200 m upstream of the Isle rowing club "Centre Nautique"
317 Highway bridge Saint-Andre-de-Cubjac
317.5 bridge
318.5 Railroad bridge
345
Blaye
, ramparts end of rocky banks along the river
352 Port Belle-Etoile
370 Port de Cônac, canal du centre
386 Port de
Mortagne
, nice harbour after 1 km of canal
396 Talmont, nice
church
high on the bank
414
Royan
, modern city, ocean beach

Campsites along the Dordogne river:

km 0 , Argentat, Le Vaurette **** +33-555280967
Adam Box mailed me he would recommend this site to anyone. It is clean, well run and right on the river.
km 24, Beaulieu, Camp des Îles *** +33-555910265
good campsite near city center
km 36, Puybrun, La Sole *** + 33-565385237
km 45, Carennac, L'eau vive ** +33-565109739,
2 km walk to beautiful Carennac, they have a small swimming pool
km 57, Gluges, Campeoles la Gabarre *** +33-565373370
Nice place with overhanging rocks above some of the houses
km 65, Meyronne, Camp de la Plage ** +33-565322326
km 74, Pinsac, Camp Municipal ** +33-565326400
You could camp under a huge overhanging rock.
km 83, Souillac, Camp Municipal ** +33-565378644
km 95, St Julien de Lampon, Le Mondou, +33-553297037
Right side of the river before the bridge.
km 102, Groléjac, Les Granges **** +33-553281115
Nice campsite.
km 115, Cénac, Le Perpetuum *** +33-553283518
Visit the medieval town and grottes of Domme, on a rock high above Cénac
km 124, Beynac,
3 campsites in a row before Beynac, middle campsite best to get your boat ashore
km 141, Siorac-en-Perigord, Le Port ** +33-553316381
Close to very large supermarket (Intermarché)
km 150, Le Buisson-de-Cadouin, de Vic ** +33-553220173
km 154, Allès sûr Dordogne, Le Port de Limeuil *** +33-553632976
Swimming pool, bar, childrens games, laundrette

In 2000 we made a 265 km kayak trip crossing The Netherlands from South to North.

Please send your remarks to my email adress: P.T.Goedhart@chello.nl

Adventure Guide JoJaffa goes canoeing